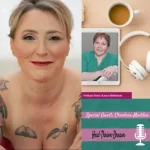 "Discover the power of story and resilience to transform your life and heal your soul."
Charlene Madden is a women's coach and Reiki healer who has overcome a history of trauma, including childhood sexual abuse, mental illness, and domestic violence. She now uses her story to inspire others to heal holistically and to thrive in life.
Charlene Madden learned about Sex Abuse when she was three and a half years old and experienced it for nine years at the hands of her grandfather. After struggling with mental illness and suicidal thoughts, she attended a women's workshop that saved her life. She shared her story of hope and resilience which highlighted the power of story, and how generational trauma can be passed on. After an abusive relationship, her ex-partner took his life and she was left to pick up the pieces for herself, and her children. She was about to commit suicide until a friend convinced her to attend a women's workshop, where she heard a speaker talk about loving herself and her life changed.
"I looked at the impact that it had on my life and my healing with trauma and I looked at how I could gift other people with that as well. And speaking had been a part of my life passion just recently, probably the last four years, because it was a speaking event, a women's workshop that I attended that actually saved my life."
In this episode, you will learn the following:
How Charlene Madden Used Reiki Healing and Mindset Shifts to Heal Holistically After Being Diagnosed with Fibromyalgia.
The Power of Story and How It Saved Charlene Madden's Life When She Was Two Days Away from Taking Her Own.
Charlene Madden's Story of Trauma, Mental Illness, and Overcoming Adversity to Thrive.
Other episodes you'll enjoy:
Connect with me:
Chapter Summaries:
[00:00:02]
Welcome to the Heal Thrive Dream podcast, where trauma survivors become healthy thrivers.. Today's guest is Ms. Charlene Madden, a female recovery coach and also a Reiki master.
[00:05:04]
At the age of three and a half, my sisters and I started experiencing weekly sexual abuse at my grandfather's hands. When she was 15, a school psychologist diagnosed her with manic depressive bipolar. She finds a healthy outlet in writing.
[00:14:15]
The author moved across the country after her partner left her. She was devastated to have to tell her children that their dad had shot and killed himself. After getting help, she decided to end her life.
[00:23:15]
The author made a decision to live. She published her book of poetry. She let go of her fear of rejection. Change starts with a decision, but you have to not give yourself an out.
[00:30:24]
I don't know if anyone's told you how eloquent you speak. Your story is very powerful and the way you're able to tell it. Are you going to publish more? I am working on a memoir, like an autobiography right now. My goal is to have it published in 2022.
[00:33:25]
The author says her 100% sobriety is relatively new. She says the first thing for healing was being radically honest with herself. She started looking at other holistic ways to heal and reiki. Do you have a favorite book that can really help people?
[00:39:50]
Charlene Madden: Sometimes it's hard to reach out to people and share what we're going through. She says online, there is virtually an endless supply of support out there for people. Madden: To say to someone, I will sit in the dark with you is really powerful.