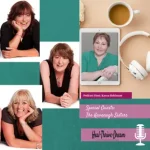 After making the brave decision to prosecute their father for abuse, the Kavanaugh Sisters face a unique dilemma when they are asked to be part of a documentary and confront the shame of the abuse by removing their anonymity, inspiring them to take a journey of self-discovery and healing.
"No matter how difficult it may seem, never give up on discovering who you are and what you are capable of achieving – even if it takes 20 years."
The Kavanaugh Sisters (Joyce, June and Paula) are three sisters from a disadvantaged area in Dublin, Ireland, who bravely brought charges against their father for two decades of sexual abuse in 1989. They were successful in their case and their story is now depicted in their documentary and two books.
Kavanaugh Sisters made the difficult decision to prosecute their father for his abuse. When a documentary crew asked them to go on camera and tell their story, they agreed without hesitation. Despite their father's attempt to stop the documentary, it was successful and the sisters were able to start breaking down the myths of abuse. Through writing their two books, Click and Why Go Back?, they were able to explore their past and gain insight into the impact of their abuse and the behaviors that followed. Doing this allowed them to start healing and reclaim their lives.
In this episode, you will learn the following:
How the Kavanaugh Sisters Used Their Narratives to Break Down Barriers Around Sexual Abuse
Their Journey Through Unpicking Their Trauma and Understanding the Impact of Childhood Abuse
The Unspoken Struggles of Overcoming Social Anxiety Despite Achieving Academic Success.
Other episodes you'll enjoy:
Other episodes you'll enjoy:
Chapter Summaries:
[00:00:02]
Welcome to the heel Heal Thrive Dream, LLC, where trauma survivors become healthy. Each month will feature a theme in the trauma recovery and empowerment field to promote your recovery, healing and learning how to build dreams. Today, the kavanaugh sisters are with us.
[00:00:59]
Joyce, June and Paula were sexually abused by their father over two decades. In 1989, they decided to bring charges against him. He was convicted and sentenced to a term of seven years. I think your story can give a lot of sisters and siblings abuse hope.
[00:03:12]
The documentary features victims of sexual abuse who were willing to go on camera and not hide their face. At the time the victims were not given the opportunity to waive their anonymity. Things have changed now and more victims are willing to waive anonymity so that the perpetrator is named.
[00:08:07]
When we initially made the decision to prosecute, we were afraid he was going to go and abuse somebody else. As soon as I made the choice not to, I realized it was the wrong choice. There was still lots of danger surrounding him for the future. It took years for us to realize it.
[00:13:08]
We wanted to dispel the myths of their abuse. What we did and what we made a conscious decision to do with Clickfic was to write in the fourth person. We really wanted people to know what was going on in the child's mind while you're being abused. It took us 20 years to write the book.
[00:18:53]
Airbook is held. Why go back seven steps to Heal them from sexual abuse. His second book is called Why Go Back? And the title of that was also very important to us. We wanted to tell people the importance victims and people who support them.
[00:20:35]
Did any of you turn to alcohol or drugs? Alcohol a lot. Smoke. We didn't eat. We still struggled it up. If I wasn't overeating, I would have been excessively drinking or smoking. Only just nature stopped me.
[00:21:58]
Each of the women take a turn saying what their biggest struggles were after the abuse. What are their biggest successes that have come after coping with your abuse?
[00:24:13]
Joyce, paula and June all left school before they were 14 years old. They have degrees in community development and leadership. What have they done for the community?
[00:28:17]
Joyce: The biggest thing we did was I write the book. It was the first time ever I saw myself as innocent. There was also painful because I didn't know who I was. But I had a very clear role until we wrote the book and then it was to clear.
[00:30:20]
June's biggest struggle was self hatred. She believes trauma impacts every single area of her life. She and her partner wrote a book about their healing process. The book is available now.
[00:36:27]
A lot of the conditions that are explained are done in language that ordinary laypeople don't understand. To actually take it out, pick it apart and then say, well, what did that really manifest like in my life? That was the benefits we got out of it.
[00:37:01]
Jean June: What are my successes? I'd say my children. I wouldn't have stood still long enough to find out who I was if I didn't have children. Are all three of you moms? No, Paul isn't. I have two dogs together. They're worth the kids.
[00:39:15]
Joyce and her children did the degree in community leadership development. Due to lack of confidence, I also studied holistic health. When I found something, I thought, this is it. This is my calling. And I'm a carer for my son, which is a full time job.
[00:41:35]
Paula says the biggest gift or the biggest. contributor to healing and sexual abuse was working together. She says there has to be something we can do for victims that can't get justice in the carts.
[00:44:37]
What was the most difficult thing for him with the abuse? The social anxiety. Even today, I'm not comfortable doing that. That's the thing that put me in a panic even with all the work I've done. The biggest trouble I had in college wasn't the work. But I absolutely loved it.
[00:49:15]
What were your biggest successes? Published in the fourth book, for me, that was huge. Other than that self awareness, learning to get out of really bad relationships. Cognitive behavioral therapy helps with that.
[00:50:59]
The group is a healing, trauma together community. It's much easier to heal and recover when we do it in a community. You can't sort it out on your own. The last survivors feel truly alone.
[00:56:15]
Joyce: I want you all to each go around and say one piece of wisdom for someone that's suffering right now. The most important thing is really be kind and gentle with yourself. Please join us next week, same day and time.